19 Jan 2021 Simon Briggs
Ethereum Is Up Over 50% Against Bitcoin In Just Two Weeks, ATH Coming?
The Second-Largest Cryptocurrency Is Very Little Away From Its January 2018 All-Time High Of $1,432.88
---
The rumors of an altcoin season coming up may be not-so-far from being true, as Ethereum – dubbed as the altcoin leader, made another move into the green area. The second-largest crypto, based on market capitalization, secured a 15.3% daily price increase, while Bitcoin added only 3 percent to its price.
Despite most of the cryptocurrencies being denominated in United States dollars, crypto analysis companies have developed another metric, showcasing a given asset's price against Bitcoin's, measured in Satoshis. The graphs show that Ethereum breached the 50% price increase mark against Bitcoin, as The Block's co-founder Mike Dudas shed some light on the discovery on Twitter.
The news quickly roamed around the crypto community, as the Bullish sentiment for Ethereum intensified. Binance CEO Chanpeng Zhao commented that Ethereum "is about the join the new ATH club."
Ethereum seems to find support in its community, as Messary researcher Ryan Watkins noted that the total volume of transactions on Ethereum's blockchain surpassed Bitcoin with over $3 billion. According to Watkins, the difference comes mainly due to the extensive usage of stablecoins, which operate on Ethereum's ERC-20 blockchain standard.
"Ethereum's daily transaction volume is going parabolic. It now settles $12 billion in transactions daily - $3 billion more than Bitcoin. Imagine not being bullish ETH," Watkins tweeted.
Meanwhile, Ethhub co-founder Eric Conner gave another point of view for Etrhereum's price increase. He believes the so-called "Ethereum killers" were a part of Ethereum's success equation.
"The most hilarious part about this market is once the max amount of suckers get pulled into Ethereum killers, ETH rips up," Conner commented.
Another interesting metric to follow is the amount of Ethereum held in crypto exchanges, which is constantly declining over the past months. Currently, 21% of all Ethereum in circulation is held by non-crypto exchange wallets. Data shows that at least 12,7 million ETH is out of the exchanges. Analytics platform Santiment added that "Ethereum finally created separation from Bitcoin on surging non-exchange whale accumulation & ETH tokens moving off exchanges."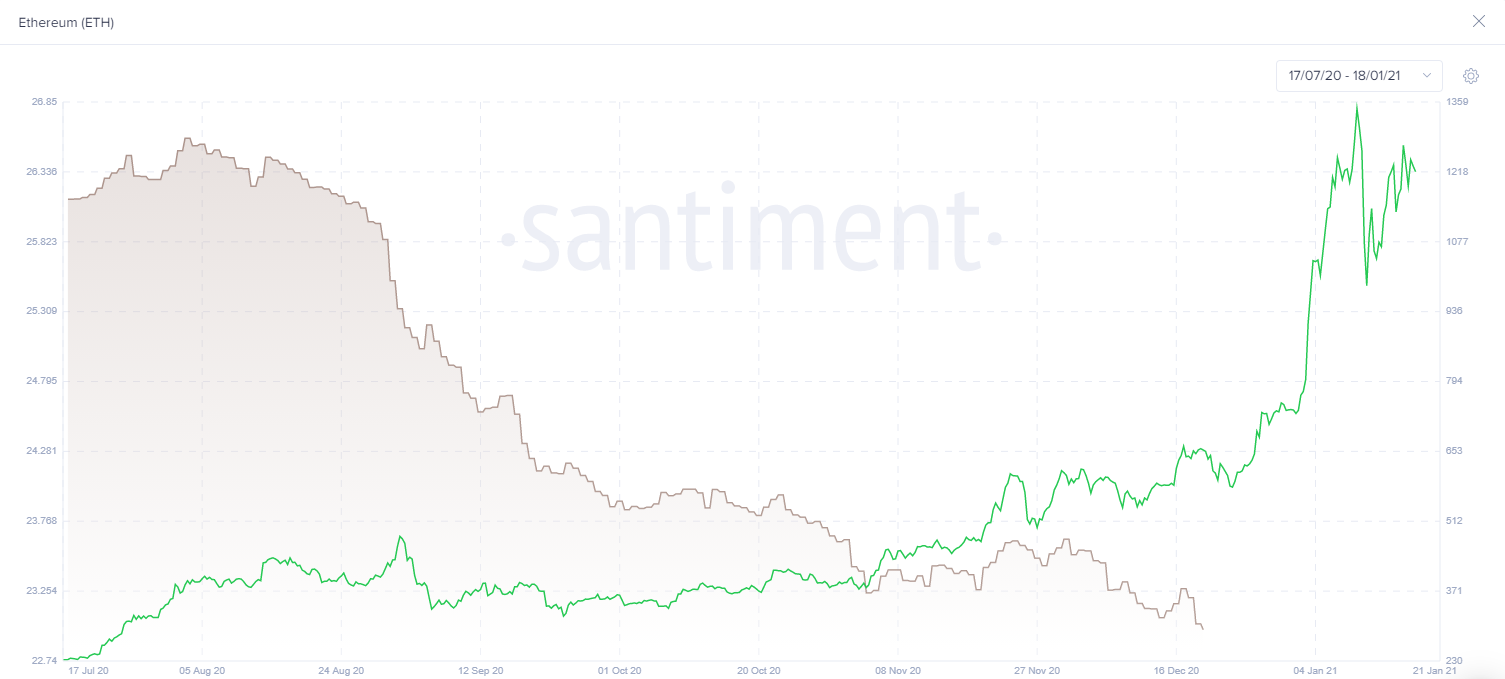 Source: Santiment
Ethereum's momentum may be a result of another driving force – the long-anticipated ETH 2.0 beacon chain launch, which occurred on December 1, 2020. Since then many institutional investors opted in for the altcoin leader, with Grayscale reportedly accumulating over 2.9 million ETH, worth around $3.6 billion. Moreover, the largest crypto asset manager to date reported increased interest in its ETH-related investment products.
Ethereum
Cryptocurrency
Crypto Market
eth
crypto market monitoring
Ethereum news
cryptocurrencies
cryptocurrency news