29 Mar 2022 Morgan Hayze
Institutional Crypto Investors Pile Up On Cryptos
Institutional Investments Into Cryptocurrencies Are At The Highest Levels In Three Months Amid Grayscale Gearing Up For Legal Battle With SEC Over Bitcoin ETF
---
Data from CoinShare's Digital Asset Fund Flows Weekly Report shows that institutional investors are coming stronger, as investment products for digital assets saw total inflows of $193 million last week, a level not seen since early December 2021.
The last time investors were in such an active spot was in the week ending on Dec. 3, which saw $184 million worth of inflows.
It turns out Bitcoin (BTC) is the leader in institutional investments 50% of the capital going into products based on BTC, or $98 million. Interestingly, Solana (SOL) was Bitcoin's runner-up, and, according to CoinShares, this was the "largest single week of inflows on record." A further delve into the data reveals SOL-based funds now represent 36% of assets under management with institutional firms. In contrast, Ethereum-based funds saw just $10.2 million of institutional inflows.
The CoinShares data also reveal that Europe was the significant contributor, as the ongoing war conflict and the latest regulatory framework changes, which almost banned Europe boosted institutional inflow by European investors. Over three quarters of the inflows came from Europe, which contrasts with data from a week behind, where North American companies were the top investors due to increasing regulatory concerns.
Interestingly, the institutional inflow managed to push Bitcoin above $48,500 at one point, before correcting to a current price point of $47,901.54 per BTC. Ethereum followed suit and broke above $4,400, currently trading at $3,464.16 per ETH.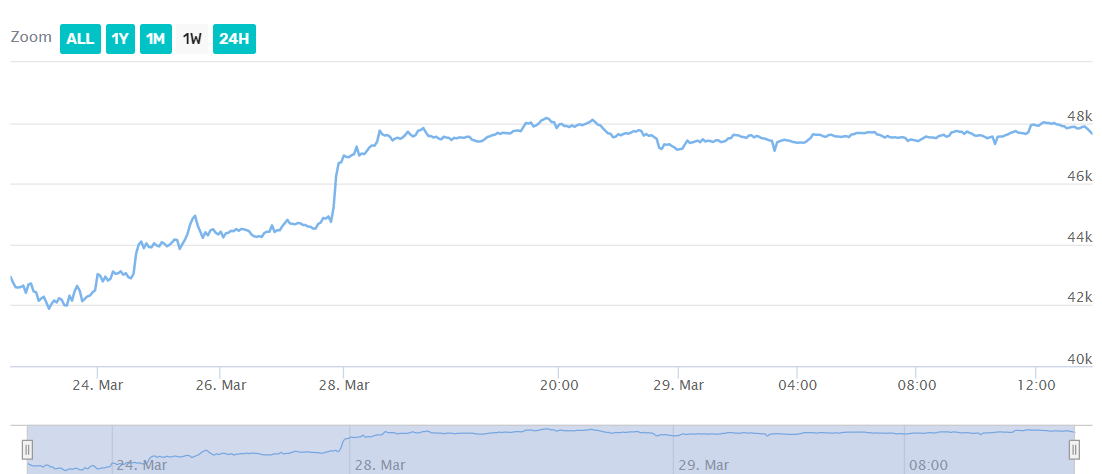 Source: Crypto Browser
The rest of the crypto sector is also seeing a positive wave, with the overall sentiment in the crypto sector remaining in the green, despite some corrections currently happening.
The largest crypto asset manager sees clouds above
Meanwhile, one of the largest institutional investors to date, Grayscale, announced that the asset manager is gearing up for a legal fight if Grayscale's Bitcoin Spot exchange-traded fund (ETF) is denied by the United States Securities and Exchange Commission (SEC).
Grayscale's CEO Michael Sonnenshein noted that "all options are on the table," when it comes to converting the Grayscale Bitcoin trust into a spot ETF in the event of a possible denial by the financial regulator.
"The Grayscale team has been putting the full resources of our firm behind converting GBTC, our flagship fund, into an ETF. It's really important that investors know that we have and will continue to advocate for them." Sonnenshein added.
The battle between Grayscale and SEC began in October 2021, when the asset manager announced that it was planning to convert its Bitcoin Trust to a Bitcoin (BTC)-settled ETF. The financial regulator delayed its decision about Grayscale's case, citing a longer period for consideration about the changes, delaying its decision once again in February 2022.
Grayscale, on the other hand, managed to dedicate a portion of its website to encourage investors to submit comments to the SEC. The results - 95% of respondents supported the conversion, according to an analysis taken in February.
"GBTC today is owned by investors in all 50 states, and there are actually now over 800,000 accounts in the U.S. all waiting patiently to have it converted into an ETF," Sonnenshein added.
Bitcoin
SEC
btc
cryptocurrencies
bitcoin news
cryptocurrency news
crypto news
SEC
Security and Exchange Commission
Grayscale
Solana