28 May 2021 Morgan Hayze
NFT Volumes Increased More Than Three Times Amid Further Crypto Market Crash
Meanwhile, New York Would Host The Largest NFT Museum To Date
---
Non-fungible tokens, or NFTs, are the crypto world's most recent trend. Since January, the total NFT-related transactions spiked from an average of 21,815 per day to May's highs of 82,373. Those figures increased even more amid May's crypto market crash, which wiped over one trillion of its market capitalization.
Meanwhile, the market crash managed to liquidate over one million trade orders, which further added to the panic and pushed transaction fees on Ethereum, for example, to new highs.
However, the transaction fee crisis didn't stress the NFT market, as traders quickly switched over from Ethereum to other blockchains, such as EOSIO-based Atomic Market. Indeed, Atomic Market recorded 20,296 in terms of daily transaction volumes, which makes it higher than any other NFT marketplace (excluding NBA Top Shot).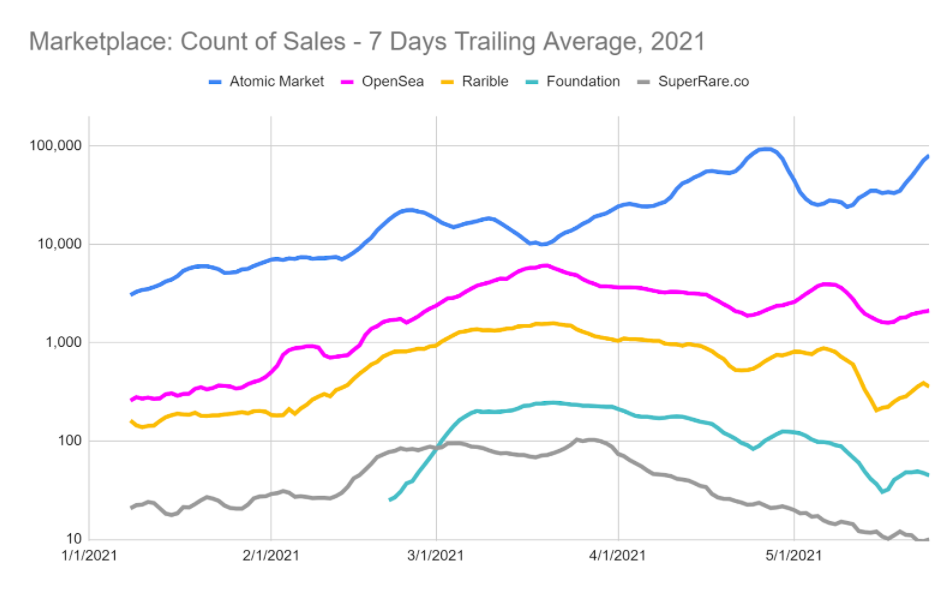 Source: DappRadar
Despite the increase in volumes, the price value of transactions sank in conjunction with the crypto market crash. NFT trading started May with an average of $14.9 million traded daily, however, since then, the volume dropped to under $6 million per day.
Many NFT owners, however, seem to be willing to take a loss this month, as the average token sale price dropping from $180 to $70.
The NFT transaction increase also comes amid internet trend platform Meme.com announced it had raised $5 million for a new marketplace focusing specifically on meme cryptocurrencies and NFTs. Furthermore, meme.com's development team is aiming at an ultimate goal - a "CoinMarketCap for memetic content", with functionalities like charts and timelines for users to compare each meme and trend.
Meme.com's investor list includes Outlier Ventures, Digital Finance Group, Morningstar, Blockhype, Spark Digital Capital, CEO of mobile developer Altitude Games Gabby Dizon, and Polygon co-founder Sandeep Nailwal.
The NFT community also received a piece of big positive news, as financier Todd Morley has announced plans to build the world's largest NFT museum inside of the new 111 West 57th Street Skyscraper.
The new building, however, would also serve as an antenna for decentralized communication facilitation between various blockchain networks.
"It's the perfect place, as sort of a symbol of technology to announce new technology," Morley, who is also a part of Guggenheim Partners, noted, adding that "this one building will be able to connect, sort of like a ham radio operator, connect everyone in New York City to wireless trading, wireless crypto trading, wireless communication."
Ethereum
Crypto Market
token
price
Prices
Market Capitalization
NFT
non-fungible token