13 Apr 2021 Jane Whitmoore
PancakeSwap Generates More Volume Than FTX And Kucoin Combined
Trading Volumes On The Binance Smart Chain-Based Exchange Are Three Times Higher Compared To Ethereum-Based Uniswap
---
PancakeSwap continues its trading volumes surge, as the Binance Smart Chain (BSC) DEX reported $3.21 billion in trading volume over the last 24 hours. The surge comes amid a continuous rise in gas fees on Ethereum's (ETH) network, with the majority of DeFi projects based on its blockchain.
However, daily trading volume figures became rivaling centralized crypto exchanges. Apart from blowing away Uniswap, which recorded just $1.14 billion in trading volumes over the past 24 hours, the decentralized exchange overtook FTX and KuCoin combined, according to CoinGecko. Visits on PancakeSwap, however, are almost the same as those on OKEx, and yet again - more than the combined visits of KuCoin and FTX.

Source: CoinGecko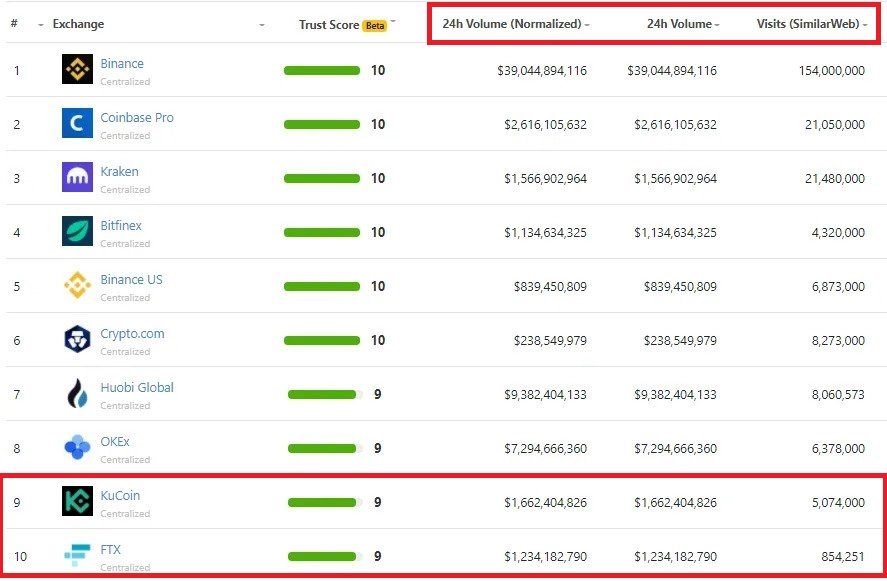 Source: CoinGecko
Decentralized exchanges are on a continuing popularity surge, while the increase in gas fees somewhat stopped projects like Uniswap and SushiSwap in pushing their popularity up. The main culprit, however, is Binance Smart Chain, due to its low gas fees and Binance's leading position in centralized crypto exchanging, which offers increased exposure to decentralized options, such as PancakeSwap.
Meanwhile, PancakeSwap announced a massive 4.8 million CAKE governance token burn, evaluated at over $119 million. Token burning mitigates token inflation and induces a scarcity effect, despite PancakeSwap not having a maximum supply.
Pricewise, PancakeSwap's governance token is on a steep incline, reaching an all-time high of $28.28 on April 12, and a current price of $24.24. However, the popularity increase is still not sufficient for CAKE to overcome DeFi leaders based on market capitalization. CAKE's current market capitalization sits at $3,66 billion, while Uniswap's governance token, UNI, has a market capitalization of $18,4 billion.
PancakeSwap's popularity brought a price increase in Binance's native token – BNB. The now third-largest cryptocurrency to date skyrocketed from a weekly low of $358.74 per token to reach an all-time high of $637.44 on April 12. Currently, BNB trades for $554.78, according to data from Cryptobrowser.io
However, the PancakeSwap popularity isn't the only thing that drives BNB prices up. Binance announced on April 12 that the crypto exchange is now offering their users a mechanism for buying fractions of companies' shares with a new tokenized stock trading service, starting with Tesla.
The idea of tokenized shares isn't new, as Terra Labs' Mirror Protocol went live in December. The main difference between the Mirror Protocol and Binance's tokenized stock trading service is that the largest crypto exchange to date offers shares that are "backed by a depository portfolio of underlying securities" managed by an investment firm in Germany. Price settlement for the tokenized shares would be done in Binance USD (BUSD).
Crypto Market
trading
decentralization
dex
decentralized
Tradings
Defi
Decentralized Finance
cryptocurrency market
Decentralized Exchange
Binance Smart Chain
BSC
Pancakeswap