04 Dec 2020 Jane Whitmoore
Thriving Bitcoin And Ethereum In November 2020
As Bitcoin Attracts More And More Dormant Coins In Circulation, Ethereum Prepares For ETH 2.0 Launch
---
November marks a special month for two of the world's top cryptocurrencies – Bitcoin and Ethereum. The crypto leader, Bitcoin, made a massive monthly rally, even being close to surpassing its ATH record from the 2017 Bitcoin frenzy. Ethereum experienced several jumps above the $500 level. It even traded above $600 trice in November, before correcting just below the $600 level.
Bitcoin may see an additional boost in its price, as data from Unchained Capital shows that at least 185,000 dormant Bitcoin, worth an estimate of $3.5 billion were moved out of deposits and entered into circulation. Unchained Capital clarified that the term "dormant" is related to coins that didn't move from their storage in the past 12 months. The bitcoin-focused financial services company also noted that the percentage of coins that remained dormant from 6 to 12 months decreased from 11.03% to 9.86% in November.
"Nearly 1% of the total supply of Bitcoin moved out of long-term storage (>1 year in the same address) during the price run-up from $13,700-$19,670 in November," Unchained Capital further explained.
However, the data also shows 61,5% of the entire Bitcoin supply in circulation remained without movement whatsoever, and 38.5% of the total supply has been active over the course of the past 12 months. This means Bitcoin holders possess the power to shake the crypto market, as only 10 percent of the entire Bitcoin supply nowadays, hasn't been moved since 2010. The reason for Bitcoin not moving is the large number of coins in the hands of institutional players. For example, Grayscale Bitcoin Trust and Block.one reported to hold over 640,000 BTC at the very start of December 2020.
Meanwhile, Ethereum keeps on building its ETH 2.0 hype, as over 1 million ETH with a price estimate of $605 million have been already staked in the protocol update staking contract. Despite the 500,000 ETH tokens needed for starting ETH 2.0's beacon chain, which were acquired back on November 24, the smart contract remains open, which means more validators can join the staking program.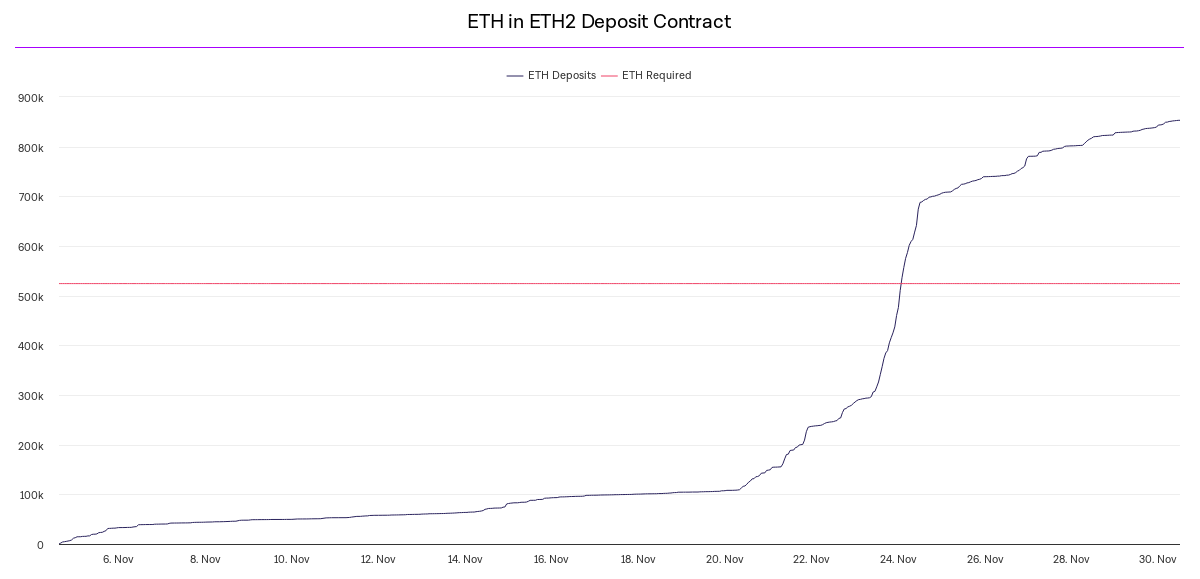 Source: Dune Analytics
In order to run a validator node, users have to stack a minimum of 32 ETH. The early staker rewards are set high, around 20% per annum. The rewards would drop as more and more validators join the blockchain. Crypto enthusiasts expect Phase 1,5 of the ETH 2.0 protocol update to end sometime in 2022, as the steps behind updating the network from a Proof-of-Work consensus algorithm to a Proof-of-Stake mechanism would take up to two years to conclude.
Bitcoin
Ethereum
Blockchain
Cryptocurrency
Crypto Market
crypto market monitoring
Ethereum news
cryptocurrencies
bitcoin news
digital asset
bitcoin news today
Ethereum Price
Ethereum 2.0
PoS