08 Nov 2021 Marsha Tusk
Crypto Market Cap Crosses $3 Trillion Amid Ethereum Reaching New All-Time High
Meanwhile, $3.7 Billion In ETH Has Been Burnt Since EIP-1559
---
The crypto sector seems to be on a bullish spree, as the total crypto market capitalization surpassed $3 trillion, according to data from crypto market watchdog CoinGecko.
According to the crypto data aggregator, the total crypto market cap managed to peak above $3 trillion, increasing its size by 14.5% in less than three weeks.
Furthermore, data from CoinGecko showcased that the current market cap all-time high comes amid Bitcoin (BTC) trading within 2% of its all-time high and Ethereum (ETH), Solana (SOL), and Polkadot (DOT) recording unseen before price actions.
However, the total crypto market cap didn't endure a smooth ride, since the crypto sector recorded a local low of $1.24 trillion on July 20 after a climb from $848.6 billion on Jan. 6, 2018, to nearly $2.62 trillion on May 12, 2021.
Meanwhile, Bitcoin's price movement did not correlate with its dominance over other cryptocurrencies, as the increase in price differed from its dominance top of 70.8% on Sep. 6, 2019. Currently, Bitcoin's market capitalization equals 43,3% of the entire crypto sector.
Nevertheless, Bitcoin still keeps on beating its closest market cap rival, Ethereum, in terms of market share with $1.22 trillion compared to Ethereum's 18.6% or $560 billion in market capitalization.
Ethereum's recent bullish momentum resulted in yet another all-time high for the altcoin leader. Indeed, Ethereum surpassed its previous all-time high of $4,632, which occurred on May 12 and clocked in at $4,744. Meanwhile, Ethereum's push didn't stop with the all-time high, as the altcoin leader topped $4,762.84 on November 8, 2021.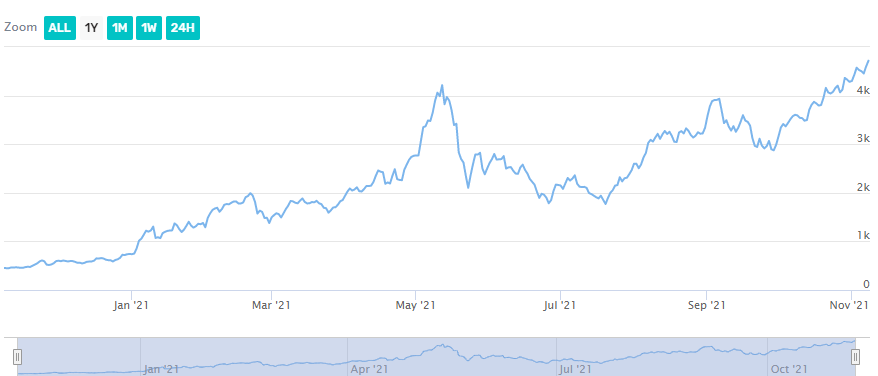 Source: CryptoBrowser
Ethereum's price increase in 2021 has been around 540% since the beginning of the year, while Bitcoin saw a gain of 125% in the same period.
A part of Ethereum's increasing price point is the increasing on-chain activity. Data from Glassnode suggests the altcoin leader surpassed 1 EH/s before surging from the previous ATH of 876 TH/s on Nov 2.
Also, Ethereum keeps fleeing centralized exchanges, as $6.4 billion in ETH has flowed into exchanges while $8 billion exited centralized exchanges. Also, increased gas fees managed to push a total of 800,000 ETH burnt over the past three months. Currently, the burnt Ethereum is valued at around $3.7 billion.
Bitcoin
Ethereum
btc
eth
Ethereum news
Bitcoin price
bitcoin news
cryptocurrency news
crypto news
Crypto Price
Ethereum Price
Market Capitalization