14 Dec 2021 Jane Whitmoore
Cryptos Are Becoming A Great Tool For Geopolitics
Meanwhile, Commercial Banks And Financial Institutions Are Continuing The Crypto Adoption Spree
---
More and more nations are looking to adopt cryptocurrencies in their economies, whether by regulating their usage or adding them as legal tender. Furthermore, many national banks are researching or developing their own central bank digital currencies, or CBDCs.
El Salvador, for example, became the first nation to add Bitcoin as a legal tender, in an effort to boost its economic presence. Now, Myanmar's National Unity Government (NUG) adopted Tether (USDT) as an official currency, adding that USDT would be mainly adopted for "domestic use to make it easy and speed up the current trade, services, and payment systems."
However, Myanmar suffers from political tension, as the country's National Unity Government was ousted following a coup in which Burmese politician Myint Swe was appointed as Acting President of Myanmar. The new administration issued a ban on crypto usage, so the Tether adoption is a clear form of political provocation from the National Unity government towards the new administration.
Currently, the National Unity Government of Myanmar is recognized as legitimate by the European Parliament with offices opening in the United States, France, Australia, South Korea, the Czech Republic, and the United Kingdom.
Furthermore, the NUG has issued a "Spring Revolution Special Treasury Bonds," which aims to raise enough funds to overpower the current administration and regain its governmental functions and has a goal.
El Salvador and Myanmar are not the only countries using cryptocurrencies for their geopolitical needs. In September 2021, El Salvador's president Nayib Bukele announced the adoption of Bitcoin as a legal tender with mandatory acceptance. Furthermore, the country bought a total of 1,120 BTC for a national fund and developed an official wallet.
Fellow country Venezuela acted much more disruptively, as Venezuelan president Juan Guaidó unsuccessfully tried to use cryptocurrencies for country-wide support to medical workers. Also, Guaidó got accusations of using cryptocurrencies to pay gang members in return for helping him establish his regime.
Other countries like China are actively working on releasing their own digital currencies. While the Chinese DC/EP stablecoin project is gaining momentum in the form of several pilot programs launched by the Agricultural Bank of China and the People's Bank of China, more and more countries are joining the list of governments, working on a CBDC.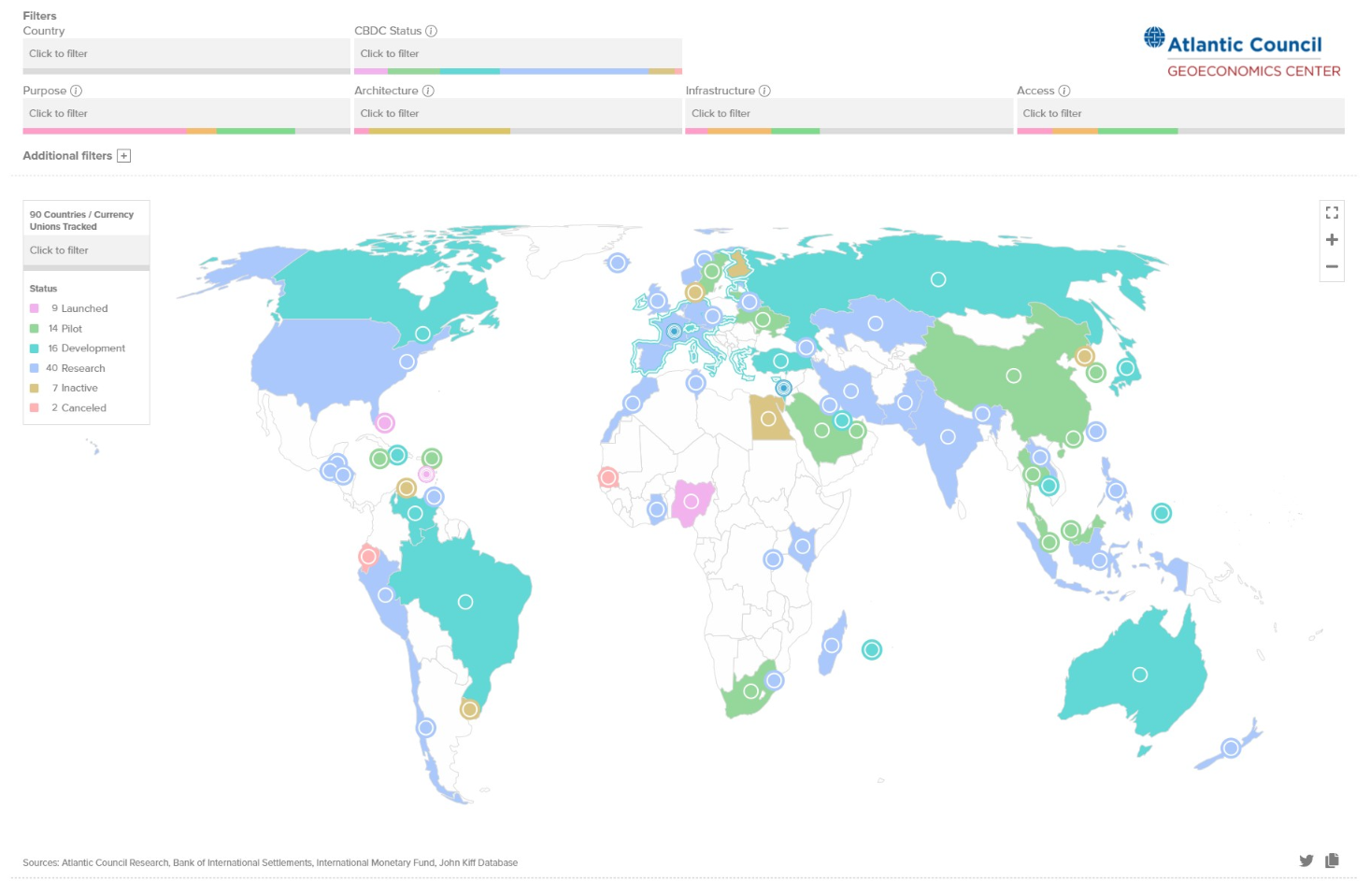 Source: The Atlantic Council
Meanwhile, the commercial bank branch is also hopping on the crypto bandwagon. The latest addition is BBVA's Switzerland branch, which started offering Ethereum custody services while offering ETH to private customers and other clients with New Gen accounts.
Furthermore, the German Savings Banks Association announced that the group would offer a crypto wallet in order to trade cryptos.
The Association currently holds over 1 trillion euros and has roughly 50 million customers, so, such a leap forward may disrupt the traditional finance mechanism in Germany.
The president of the German Savings Bank Association Helmut Schleweis also noted that the combination of low-interest rates and rising prices is a "toxic mix," saying it had become harder to stop the erosion of wealth.
Bitcoin
Ethereum
Tether
btc
eth
central banks
china
cryptocurrencies
bitcoin news
cryptocurrency news
crypto news
Stablecoins
CBDC
USDT