30 Nov 2021 Anthony Lehrman
Bitcoin's Network Is Processing $95K For Every $1 In Transaction Fees
Data Shows That The Value Per Dollar Of Transaction Cost, Settled Through Bitcoin, Has Increased Its Settlement Efficiency
---
Bitcoin, the largest crypto to date, and its network endured through a rollercoaster ride over the past three months, as the price per BTC, climbed from a low of $39,787.61 on September 24 to its all-time high of $68,742.31 on November 10.
However, despite the price turbulence, especially in the past 7 days, one metric seems to increase – the so-called value settlement efficiency, which describes how much value can pass through Bitcoin's network for $1 of transaction costs.
It turns out that over the past seven days, the Bitcoin network has transferred an average of $95,142 of value for every $1 worth of transaction costs.
Settlement efficiency has been climbing up since May because more value had been moved around the network over that period. Тhe increase has been recorded by on-chain analyst Dylan LeClair, who used data from Glassnode.
"The median transaction saw $751 of value transferred for every $1 worth of fees. Bitcoin is the most efficient monetary settlement network the world has ever seen." LeClair added on Twitter.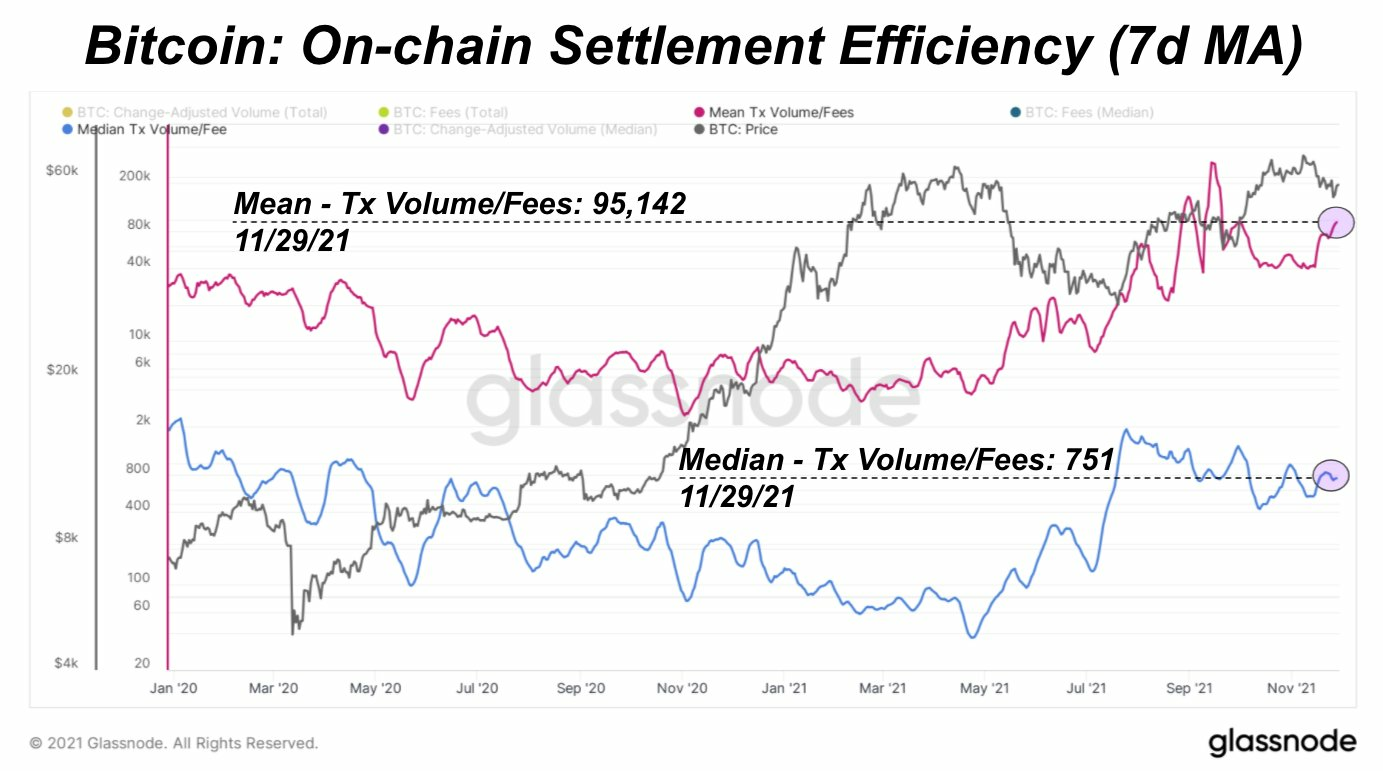 Source: Glassnode
In fact, LeClair's statement may turn to be true, since the final settlement costs amounted to just 0.00105% of the total value transferred of $451.3 billion. However, Bitcoin is still the seventh-largest transaction cost generator, with Ethereum processing $53 million in daily fees, which is 98.7% more than the Bitcoin network. Bitcoin averages $678,000 in transaction fees for a week, which puts it behind Ethereum, Uniswap, Binance Smart Chain, SushiSwap, Aave, and Compound.
However, Bitcoin and Ethereum should not fall into the same category, since their principle of operation is completely different. Bitcoin, for example, is commonly used as a store of value, while Ethereum is the number one platform for smart contracts and decentralized applications.
Furthermore, LeClair's statement of Bitcoin's median transaction sitting at $751 for $1 of transaction fees, can't be compared by Ethereum's mean transaction volume divided by the fees, which comes out at just $139 in value transacted per dollar in fees.
Meanwhile, data from Bitinfocharts shows that Bitcoin hits an average transaction fee of around $2.13. Ethereum, on the other hand, saw its average fee reaching a whopping $42.58. Furthermore, Ethereum became notorious for the insane transaction costs amid the DeFi boom of the summer of 2020.
However, Ethereum's gas fee crisis has pushed Layer-two (L2) solutions, like Polygon (MATIC), to receive a broad adoption over the past couple of months with a near all-time high total value locked of $6.87 billion, according to L2beat.
Bitcoin
Ethereum
btc
eth
Ethereum news
Bitcoin price
bitcoin news
cryptocurrency news
crypto news